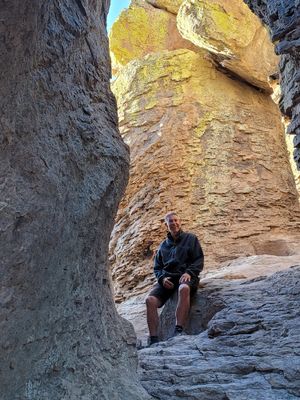 Hello from warm and dry Arizona! I have been parked at Holy Cross Lutheran in Tucson for the last 6 weeks, and I am grateful to these nice folks for their hospitality. I also really appreciate the opportunity to continue to sing in some of our churches here. Many are not able to bring in outside musicians because of the virus, but some have been able to say yes! I have not been singing as often as usual, but God is taking excellent care of me financially. 
It feels as though I am semi-retired, and I have had extra time to do some "tourist-type" activities. Some friends who are church members here have taken me under their wing, and we have had some wonderful outings. One day we visited the historic Slaughter Ranch down near Douglas, Arizona on the Mexican border. This is an old ranch from the 1850's which has been restored and turned into a museum. 
We also visited the Whitewater Draw Refuge near McNeal, Arizona. There are thousands upon thousands of migrating sandhill cranes hanging out there for a few weeks on their way northward. What an amazing sight. We also have done some climbing into the mountains at Chiricahua National monument. Although it's one of those cases where pictures don't do justice, I have included some photos for you. 
What's next? A few churches in Phoenix for the rest of March and then Las Vegas. I will end up playing for Holy Week and Easter at Beautiful Savior, and then spend the rest of April in Reno playing for all 3 of our churches there.