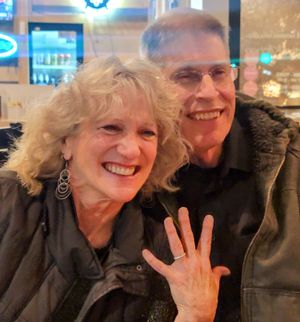 Well, I've got news. I've parked the bus at an RV park in Spokane, Washington, and I'm transferring my church membership to St. Matthew Lutheran here. This is the first actual winter I've experienced for 20-some years. Why, you might ask, am I making these big-time and significant changes in my life? The answer is: I met a woman! 
She is Donna Lindsay, the Preschool Director at St. Matthew. I was singing for worship there on Sunday, May 16th when she came dancing down the aisle and said, "Hi Chris!" After I sneakily found out her first name, I sang a few bars of "Oh, Donna" in the middle of my music. Our story is long and happy, and it's going to get a lot longer, God willing. We got engaged on New Year's Eve, and we're planning a June 18th wedding after she gets done teaching the little ones for the year. 
Donna is about 10 years younger than me, and I'm sure glad she likes old piano-players for Jesus. She'll keep teaching for at least a few more years, and then we hope to travel together around the country visiting churches and sharing music and our stories. I hope you get a chance to meet her, because she is truly unique and wonderful. She loves people so genuinely and so much that she really makes me look like an introvert in comparison. Donna loves to share in my music ministry, and if God is gracious, we'll have many years together.