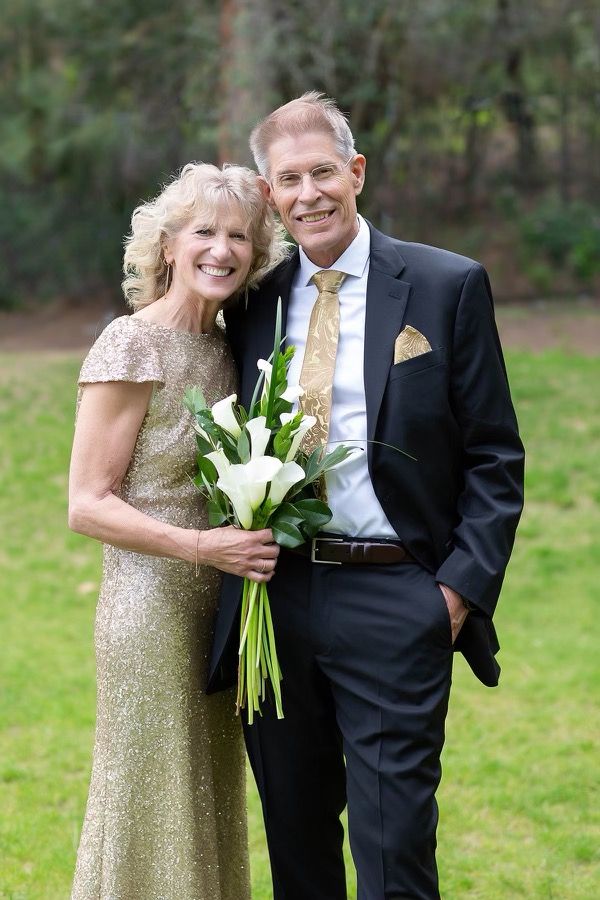 Hello, dear Christian friends!  Lots of news for you who are interested: 
The former Donna Lindsay and I were married on June 18th at our WELS church in Spokane with family and friends. We honeymooned for 10 days in beautiful Alaska and had lovely adventures in Homer, my very first church in Anchorage, and Valdez. The weather was amazing, warm and sunny the entire time, during the longest days of the year. My lovely bride woke me in a panic at 11 o'clock, telling me that we slept in and missed breakfast and needed to pack and hit the road immediately. She'd been up showering and dressing in a rush. But it was 11pm the night before! How could she tell, when it was still broad daylight? This is a classic Alaska story, and it usually happens to everybody sooner or later. 
We just returned from a 2-week trip to Montana, Wisconsin and South Dakota churches. Donna loves helping me with my music ministry. She loves to talk to people, and she helps me set up and tear down my gear.  She has a lovely voice, but has no interest in getting up in front of people, so there are no duets at least so far.
On Sunday July 17th, Pastor Jay Bickelhaupt, Donna and I did 2 morning services at Apostles in Billings, Montana. We then drove 3 1/2 hours to our little church in Circle, Montana and did a service at 4:30 PM, then drove an hour south to Terry for a 7:00 PM service there. They had a meal afterwards, and we got back to Billings at 11:30 PM. I slept in the backseat, and Donna, who is much younger than me, kept Pastor awake for the whole drive. 
Another highlight was an evening at Trinity in Aberdeen,South Dakota. Pastor Tom Rawerts is an excellent singer and musician and sang several songs with me for a crowd of about 100, after a meal in the fellowship hall. They celebrated us as newlyweds with balloons, flowers and a dance. Pastor Tom sang to us, and we danced to "Have I Told You Lately That I Love You."  Donna cried for the entire song (tears of joy, I think...!).  
Now we're back in Spokane. Donna is the director and teacher of the preschool here at St. Matthew. We live in the former parsonage on church property, and the school is in the daylight lower level.  She will have about 50 kids to teach about Jesus; ages 3 and 4 in four different group. She is really great at teaching the kids and their families also. Many are local Mormon families, and there are quite a few immigrant nationalities represented as well.   
I'm loving my new life here. I'll keep playing music in our churches once or twice a month, mostly on Sundays. There are many ways that I'm able to be helpful to Donna's ministry, which is great. I like to describe my new life as "Donna World."  I'm keeping the bus, and we hope to go for a month-long trip to the Midwest next summer, God willing!
More pictures of all these adventures are on my Photos page.