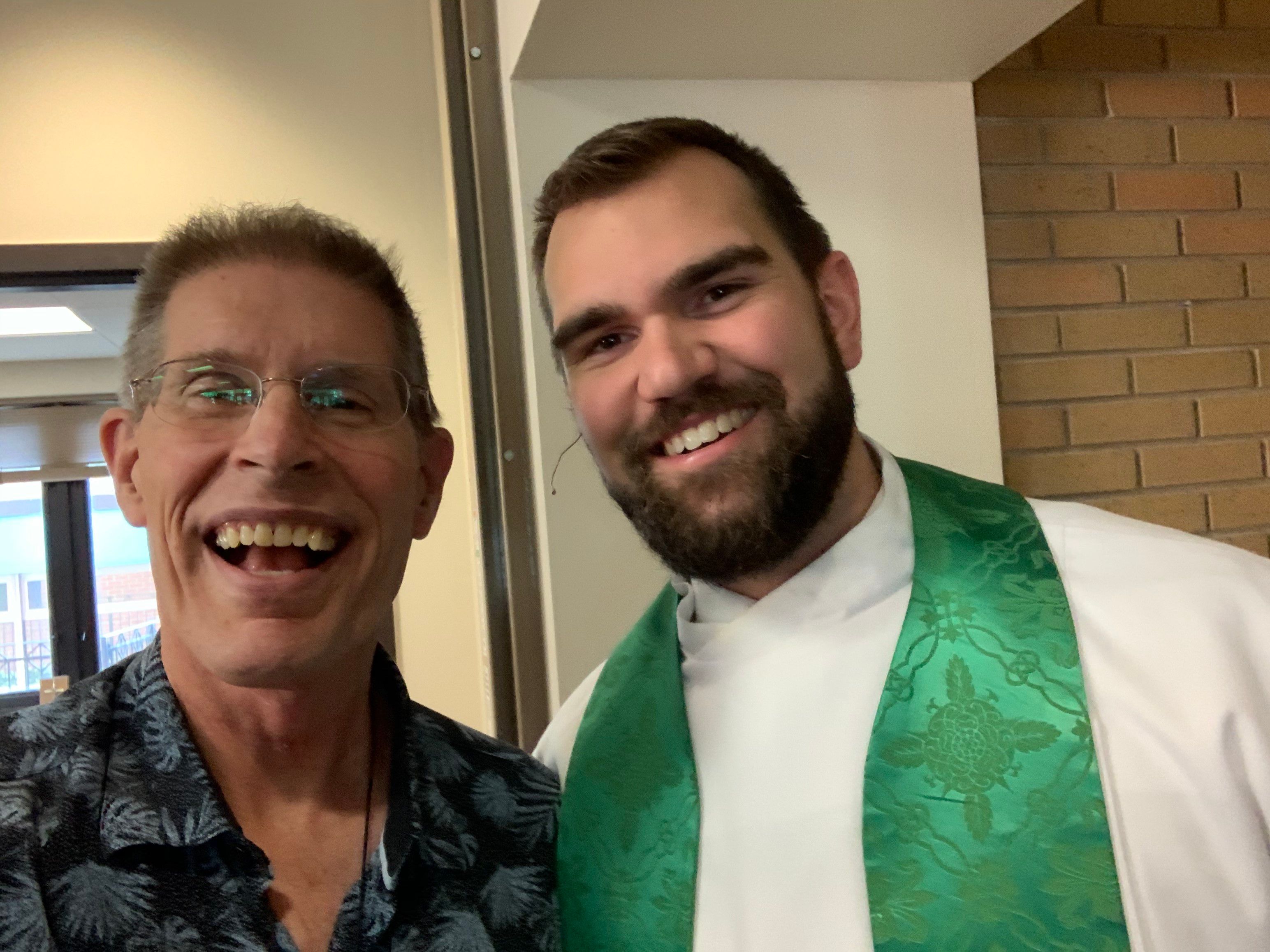 Summertime in Wisconsin- the best!  I really enjoyed playing for the annual St Paul outdoor worship and summer picnic August 4th.  We'd planned an outdoor service in Union Grove, but the weather didn't cooperate.  No problem- it was sunny inside the sanctuary at Trinity on September 8th.  My friends at St John, Oak Creek (on Howell; there are 2 St John churches in Oak Creek Wisconsin!) let me leave my bus on their property while I took the van 4 hours west to Eau Claire and played at St Mark there. I enjoyed a concert for the school there on Monday morning September 30th.  (Photo above is with Pastor Jesse Knox of St. Paul in Stevensville, MI.)
So I spent October in Michigan and played at 17 churches in 25 days including a new church (number 792 for me) in Pigeon called St John's.  Pastor Steven Neuman put together a lovely video on Facebook about my visit.
I just landed in Ohio today, October 29th.  I'll spend another 12 days here, playing in 8 different churches. My next gig will be at my actual home church in Huntsville Alabama, Lamb of God.  They are putting on a concert featuring me on Tuesday night November 19th.  And I'm signed up to bring snacks on Sunday the 17th. That tells me that I'm at my home church, when they put me right to work!
In other news, I'm very excited about this new website, which is much more friendly to mobile devices.  Not only do we have a new improved appearance, but users can download all of my music directly from the website!  Very cool.  Many thanks to my website lady Jayne Nitz, who has been putting lots of work into this for me.  Jayne is also a songwriter.  Many songs that I sing were written or co-written by Jayne, who is totally awesome!  She's also my editor so I'll be amazed if she doesn't edit the preceding material out because she doesn't like lots of attention called to her wonderful work.  We'll see... (webmaster's note: I only edited it a little bit.  Thanks for the nice words, Chris!)